Nordlaks more than doubled the recycling rate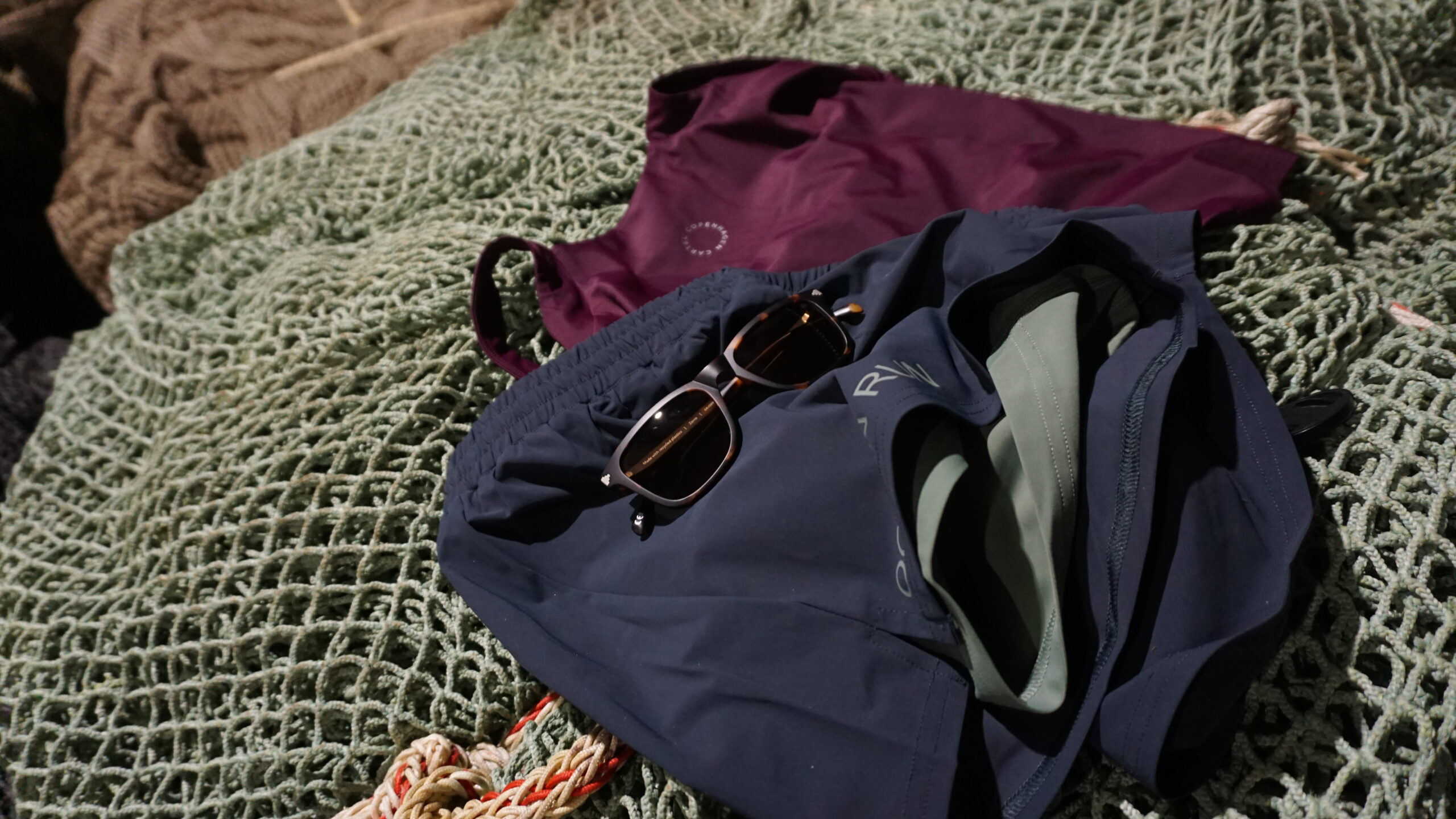 Nordlaks increased its recycling rate from 42 % to 100 % in 2022. This transformed old aquaculture nets into everything from car parts to swimwear.
This is an important step towards the sustainability goals we have set, and the work to ensure the world's most sustainable food production," says Silje Storjord Wadsworth, Head of Planning and Sustainability at Nordlaks.
Last year, Nordlaks delivered 134,167 kg of equipment to the recycling company Nofir. The majority of this was aquaculture nets, and 100% of the equipment was sent directly for material recycling.
From car parts to swimwear This means that the nets are transformed into new products: ranging from car parts to swimwear, according to Øistein Aleksandersen, Managing Director of Nofir.
"All high-quality nets find a new life in a variety of products. Nordlaks' contribution in 2022 directly led to us achieving our highest ever material recycling rate, which means that never before has so much aquaculture equipment been transformed into new products," he says, adding:
"Nets from the Norwegian aquaculture industry, mainly made of nylon, are in high demand worldwide. Because actors like Nordlaks have been proactive and placed recycling on the agenda, more and more people have realized that nets and other equipment from the aquaculture industry can be used for many interesting applications in circular value chains."
Used by Gucci, Jaguar, and Adidas Since 2011, Nofir has collected over 61,000 tons of equipment from 22 countries and five continents. The majority comes from Norway and consists of aquaculture nets. These are sent to the Italian company Aquafil, which produces ECONYL® – a endlessly recyclable nylon made from the nets.
This is used by well-known brands in the clothing industry such as Gucci, Patagonia, Norrøna, and Adidas. It's also used by car brands like Jaguar and BMW, and is widespread in carpet production, including for office buildings.
Wadsworth explains that recycling will continue to be a significant priority for Nordlaks in the future.
"Recycling and reuse are important both from a sustainability perspective and particularly in line with our values of fairness, responsibility, and innovation. If we are to ensure that the salmon we cultivate continues to be the world's most sustainable food production, it also demands that all our activities are aligned. In this context, it's important that the equipment we use can have a life even after it's taken out of the ocean," says Wadsworth and continues:
Not least, it's exciting to see that equipment that has taken care of our farmed salmon can be used for such diverse purposes after it's left our hands.
Facts about Nofir
Nofir is a company from Bodø established in 2008, with three full-time employees as of 2023.
One of the world's largest collectors and recyclers of materials and equipment from the fishing and aquaculture industry, mainly in Norway but also in other European countries.
Collects items like nets, traps, trawls, mooring ropes, tarpaulins, and cleaner fish shelters. Also collects so-called ghost nets and other marine debris with the help of volunteer organizations and businesses.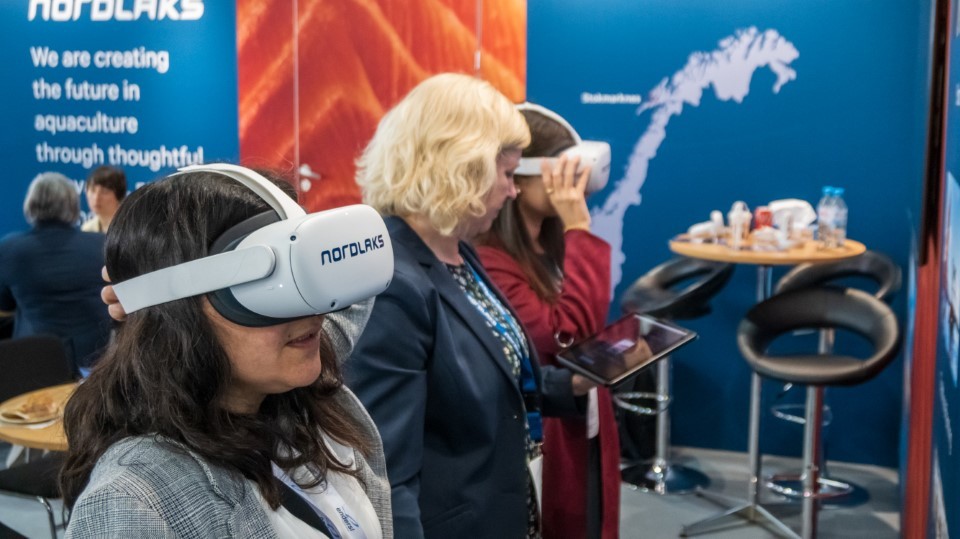 Technology in focus
Many may still think of the farming industry as relying on manual processes, but that is far from the truth.
-"We are a high-tech business in all aspects, from the production and processing of the salmon, to the internal and external processes of sales and logistics. We wanted to show this to our existing and future partners, without the need to physically visit our locations," he explains.
Nordlaks is currently the only player at the fairs to-date who has made this investment.
-"VR glasses provide an understanding of our industry and a feel for our environment, which cannot be communicated with a traditional PowerPoint presentation. At the trade fairs we are already changing the perception of our industry," says Nikolaisen.
Curious? Here you can see the whole process in virtual reality:
(For the best viewing experience, select the minimum playback quality of 1080p HD)
A great success
Thus far, Nordlaks has taken the VR glasses to Boston, Seoul, Barcelona, ​​Bangkok and Tokyo, and it has generated great interest.
-"Currently, the Norwegian Seafood Council has taken the glasses to South Korea where ambassadors, politicians and journalists will experience the VR presentation.  Clearly the project's success reflects an interest in the industry as a whole not just for us at Nordlaks," says Nikolaisen.
Over a thousand people from all over the world have «visited» Vesterålen at Nordlaks' virtually via the VR headset.
-"Of these, between fifty and a hundred have been new customers with which we are now negotiating agreements. With the increased capacity our new facility at Havfarmen has given us, this is an effective tool that can help us expand. "
Marketing cooperation with customers
Nordlaks also has other plans for using virtual reality.
– "Customer events utilizing VR glasses is an obvious possibility, but the bigger goal is to build a digital infrastructure that makes content available to our customers so they can then use in it their own marketing material. For example, a restaurant in Milan can give its guests a VR experience while they read the menu, and then be served salmon from that particular location," explains Nikolaisen enthusiastically.
We are creating the future
The investment in VR glasses and content that is tailored for this purpose is a strategic move that Nordlaks has made quite deliberately.
– "It puts us on the map as a forward-leaning actor who dares to think differently in a fairly traditional arena, which trade fairs are. Our vision is to help shape the future, and that is exactly what we are doing here," concludes the sales and marketing manager.